THE HUNTER
As a child, I was raised in a hunting environment. My father, Don Davis, was a Wildlife Biologist for Texas Parks and Wildlife Department from college graduation until retirement.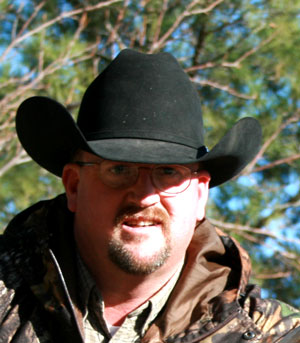 We lived on the Matador Wildlife Preserve during my primary years, and then moved to Winters, Texas, in 1976. This was a move "home," as both sides of my family have been established in Runnels County for three generations.
I did the rest of my growing up in central West Texas, one of the Whitetail Meccas of the South; I reside there still today. Over the last 29 years, I have been privileged to take, +/-, 58 bucks from the Runnels County area. We are a 2-buck county, and most of the bucks I have harvested are uniformly representative of the deer we see each day. These bucks are predominantly 8-10 points, with the occasional 12-pointer. A prime buck for this area would sport a 20-inch inside spread. During years of favorable rainfall and forage, big bucks are a reality in Runnels County!
As an avid, stewardship-oriented hunter, I have always dreamed of the "monster" whitetail buck. I FINALLY found him! I harvested him cleanly with one shot. I was every bit as overawed and emotionally inspired as I always dreamed I would be. Click here to read the entire story!
Thanks for taking the time to view the web version of my dream fulfilled.
Sincerely,
Bryan Davis